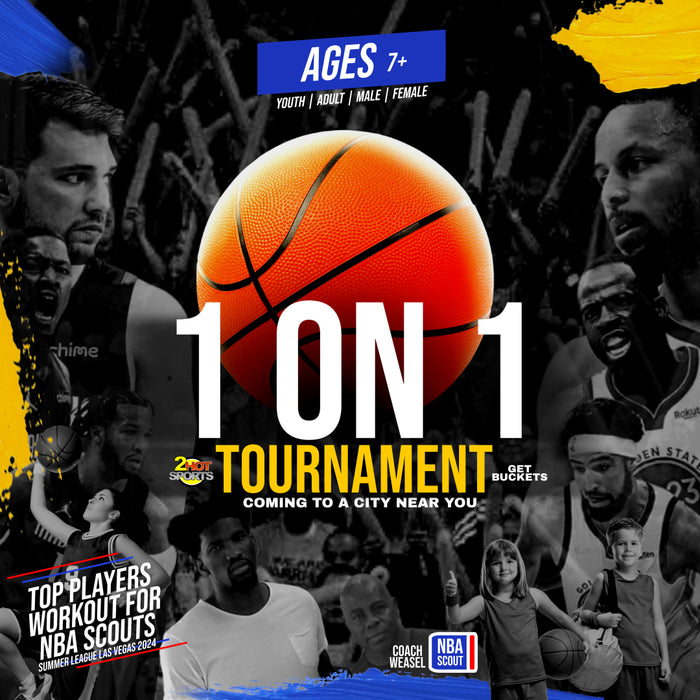 1-on-1 Tournament Slot
Original price
$ 60.00
-
Original price
$ 150.00
For full details: Click Here >
Experience the thrill of competition and showcase your skills on the court. Grab your chance to play in the most electrifying 1-on-1 basketball tournament around! Register now, lace up, and get ready to battle it out for the grand prize and a shot at an NBA Scout workout and NIL Deals!
Main Features:
Open to all ages 7 and up
Compete in a city near you
Exclusive workouts for top performers
Price:
Regular: $150
Early Bird Special: $120 (with code)
Or make a deposit using Shop Pay or Select Deposit only
For full event details & FAQ: Click here >
1-on-1 Basketball Tournament Slot – The Journey Begins Here!
Are you ready to take your game to the next level? 2HotSports presents the ultimate basketball challenge: a nationwide 1-on-1 tournament where you can prove you're the best. It's not just a game; it's a shot at basketball glory, with the eyes of an NBA Scout on the prize.
What's Included:
Entry to one of the most dynamic 1-on-1 basketball tournaments
Opportunity to compete for a variety of age and gender-specific grand prizes
Chance to participate in exclusive workouts with NBA scouts for top talent
Age and Gender Categories:
Youth Division: 7-10, 11-13, 14-17
Adult Division: 18+
Categories for male and female athletes
Event Structure:
Local city tournaments leading up to a national showdown in Las Vegas, June 2024
Fair and balanced competition brackets
Additional Information:
Early Bird Pricing: Take advantage of our limited-time offer and save on your registration fee!
Locations: Starting in Las Vegas with tournaments across the country
Get in the Game: This is more than just a tournament; it's a basketball pilgrimage. From the moment you step onto the court, every dribble, every shot, and every play is your chance to earn a spot in the summer league spotlight. Register now for the 1-on-1 Basketball Tournament Slot and change the trajectory of your basketball journey today.
Please Note:
Early Bird and regular pricing available
Tournament locations, and additional logistics will be provided upon completion of registration
Be part of the 2HotSports legacy. Your path to basketball greatness starts with a click. Book your tournament slot now!